Dear Beauty Diary,
I have been very excited to get my hands on the Etude House Look at My Eyes Cafe eyeshadows. Look at My Eyes is Etude House's permanent eyeshadow line, and the word following it tells you the type of finish the eyeshadows come in. For example, Cafe is the matte series, while Icing is the cream series. The different finishes have different price tags. Cafe has 8 matte eyeshadows, and each costs $7.90 (USD $6.38). Here's the shade chart for the Cafe series.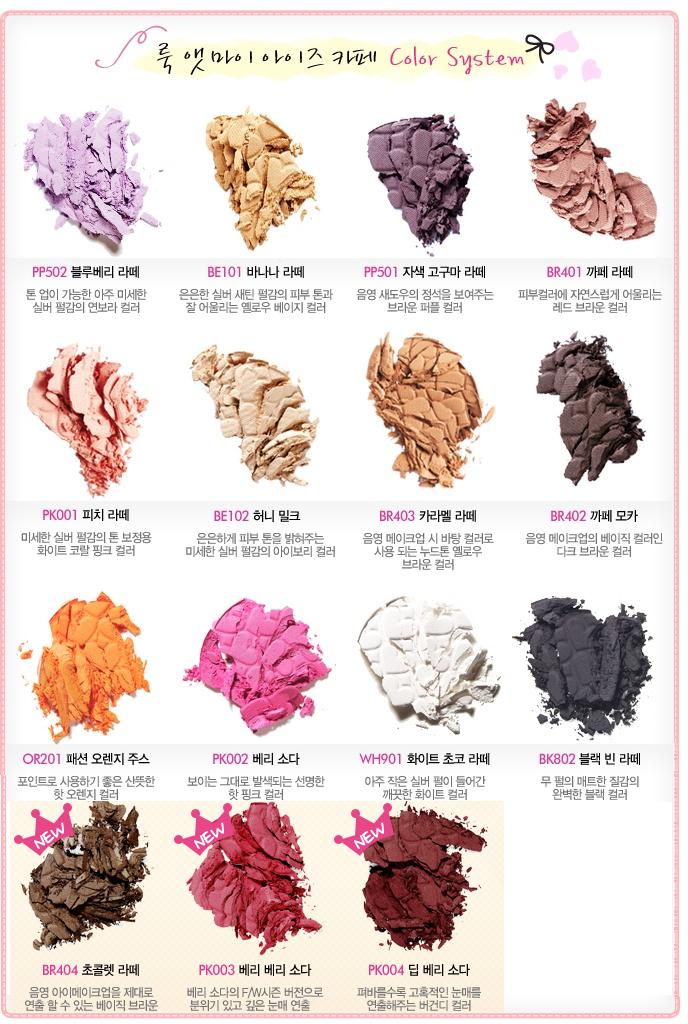 The first 8 (first 2 rows) are the usual shades. I guess the 3rd and 4th row are the newest shades. I got BE102 (Honey Milk), BR401 (Cafe Latte) and BR403 (Caramel Latte)
The packaging is quite flimsy and looks quite cheap. When I swirled a brush in the eyeshadow, the pot of eyeshadow was moving around in the plastic pot. Anyway, its price is a tad bit expensive for a product coming from Etude House. However, the good thing is that each eyeshadow contains 2g worth of product. You'll take a long time to finish up these eyeshadows.
From left to right: Caramel Latte, Honey Milk, Cafe Latte
Here's the product description:
Smooth, silky eyeshadow that supplies eyes with a profound, dramatic look.
Guess what? These eyeshadows have a shelf life of 3 years! The packaging said 36 months, which is 3 years. Most products have 12M in that little container sign, which means you can only use it for a year once opened. Haha these eyeshadows have a ton of product, and you don't need to worry about using them up quickly, since they can last for such a long time.
Most of the Cafe shadows are very neutral and easy to wear. They are also supposedly matte. I noticed very very fine white glitters in the eyeshadows. There's actually quite a lot of these fine glitters, but its very fine and can only be seen up close. Some of these colours, especially the lighter shade ones, are very sheer, so you need to apply a lot to see the colour. Otherwise, you need a base to allow more colour payoff.
Here are the swatches of the colours I bought
From top to bottom: Cafe Latte, Honey Milk, Caramel Latte
Almost all of the Cafe eyeshadows have warm undertones. Cafe Latte is a warm pinky brown (looks like a blush type of colour when swatched). Honey Milk is a creamy white, leaning more towards the white side. Caramel Latte is a cinnamon type of colour, and is a mix of orange and brown.
These shadows are very creamy, they glide on very smoothly and are a pleasure to blend with. No problem in the texture department. However, you need quite a lot of product, especially with the lighter shades, since they are pretty sheer.
These shadows don't stay on for very long. They fade away with time. After 2 hours or so, you need to touch up, since the colours will be very faint by then.


These eyeshadows don't have much scent in them. They smell like ordinary eyeshadows (sort of hard to describe the scent).

Overall, I find these eyeshadows ok. The whole cafe series has pretty interesting shades, so if you want a twist to your normal neutrals (like Urban Decay Naked palette), you can try out these shadows. They are also pretty matte. Pigmentation and staying power is just normal. There's not much fallouts, but I noticed that the power is so fine, it creates a cloud of powder around my face when I apply the eyeshadows on with a brush.

What are your favourite shades of the Look at My Eyes Cafe series eyeshadows? Share your thoughts!

P.S. If you haven't noticed yet, I am a neutral eyeshadow lover, I just feel attracted to all those neutral shades. I'm thinking of getting the Too Faced Natural Eye Neutral Eye palette. This may be more of my cup of tea than one of the Naked palettes. Shall do a post if I end up getting the Too Faced palette!